BesenArts December 18, 2014 Newsletter



Conference Issue




Horszowski Trio

CD Release Party

During Chamber Music America Conference




Roster Round-Up



Dear Friends:
It's that time of year - when we all work ourselves beyond recognition in order that we may have some time, perhaps, or perhaps not, to get some rest before we again work ourselves beyond recognition. About right?
I will as always be at the APAP and CMA conferences this season. If you will be there, too, I hope you might pay me a visit. My booth at APAP is #204 (Rhinelander). At CMA, I will have a table in the Atrium. I can be reached during the conferences by cell phone and text at 646-729-7121.
You are cordially invited to the Horszowski Trio's CD release party, taking place during the CMA conference, on Saturday, January 17 at 6:45 PM at the Klavierhaus Recital Hall, located in Le Parker Meridien Hotel on 56th Street between 6th and 7th Avenues. This event celebrates (with music, Champagne, and macarons) Bridge Record's release of the Trio's debut CD. You do not need to be registered at the conference to attend! Just let me know - and we'll be delighted to see you there. More details below.
I am also pleased to share with you some fun and interesting things on all my clients in the articles below.
AND, of course some material for your general entertainment, this time having to do with a mysterious visitor. Yes, it's the latest installment of The Life Suburban.
Best wishes,
Robert
Horszowski Trio
CD Release Party
Saturday, January 17 at 6:45 PM
You are Invited!
Download:
HORSZOWSKI 2015-2016 REPERTORY
The Horszowski Trio has had quite a busy fall, topped off with the December release of its debut CD from Bridge Records. The Trio takes its name from Mieczysław Horszowski, and this recording features works by three composers the great artist knew, Camille Saint-Saëns, Gabriel Fauré, and Vincent D'Indy. Though the composers are all French and the works span just 66 years, the range of musical expression is astonishing, and chances are you are at most glancingly familiar with at least one of these pieces.
The release party will take place at:
Klavierhaus Recital Hall
119 W. 56th Street (between 6th & 7th Avenues)
New York City
The space is located in the new showroom of the fine piano dealer, Klavierhaus, which is in turn located at Le Parker Meridien Hotel. You do not need tickets for this, but if you can, please let me know by e-mail (Robert@BesenArts.com) or phone (201-399-7425) if you wish to attend. During the conference, I can be reached by cell phone and text at 646-729-7121.
Here is a taste drawn from the CD. The producer is the amazing David Starobin, who is a Grammy finalist this year, I might add.
Horszowski Trio: Bridge Records Sampler (9441)
Alexander String Quartet
The Alexander String Quartet's recording with pianist Joyce Yang of the quintets of Schumann and Brahms continues to get stellar reviews. The journal Music Web International asks its critics to pick their top choices at the end of each year. Their 26 critics made 141 selections. In only eight cases a particular recording was chosen by more than one critic, and so it is with the Alexander/Yang Schumann/Brahms. The first link is the introduction; in the second you can find the review from David Barker, and in the third from Brian Reinhart.
And, yes, please do consider engaging the fivesome for your concert series. Contact me for details. (And my thanks to Ms. Yang's manager, Bill Capone of Arts Management Group, for his cooperation on this collaboration.)
Don't deny yourself the pleasure of hearing the music making of the Alexander and Ms. Yang. Here you can listen to (and watch some terrific computer-generated animation by Steven Malinowski) the Scherzo from the Schumann quintet:
Schumann, Piano Quintet, Scherzo
Daedalus Quartet
Download:
And the answer is... Ludwig van Beethoven, Franz Schubert, Bedrich Smetana, Jean Sibelius, Maurice Ravel. Mieczysław Weinberg, Henri Dutilleux, George Perle, Fred Lerdahl, Vivian Fung, Huck Hodge.
We are playing Jeopardy, of course. Respond in question form, please.
That's easy! Who are the composers the Daedalus Quartet has chosen for 2015-2016?
It really could only be Daedalus. A Daedalus program is recognizable a mile away. But I recommend getting close to hear them.
Here's something surprising: The great city of Philadelphia, home of the fabled Philadelphia Orchestra, and the truly incredible Philadelphia Chamber Music Society (for which Daedalus plays every season), has never had a Beethoven string quartet cycle. That will change in 2015-2016, when Daedalus performs their own first cycle as well, at the University of Pennsylvania, where the quartet is in residence.
The coming season will see two World Premieres performed by the Daedalus Quartet. The Women's Musical Club of Toronto will present the premiere of a new work for clarinet and string quartet by Vivian Fung. The work will subsequently be performed for the Chamber Music Society of Lincoln Center and the Norton Building Concert Series. If you care to join the list, please let me know.
Joining the Daedalus in this endeavor is the superb clarinetist, Romie de Guise-Langlois. The five first collaborated in a performance for the Chamber Music Society of Lincoln Center in January 2013, and this commission was cooked up at the post-concert reception - I know because I witnessed it happen.
The University of Washington World Series will present the Daedalus Quartet's performance of the World Premiere of a new work by Huck Hodge. This piece is a commission of the Fromm Music Foundation.
Here is Daedalus playing Mieczysław Weinberg's String Quartet No. 8. If you don't know this music, do not deny yourself!
Weinberg: String Quartet No. 8
Miami String Quartet
Download:
One of the highlights of the Miami String Quartet's current season was a performance with long-time partner in crime, the wonderful pianist Lydia Artymiw. They were invited to play together again this season by The Schubert Club for its Music in the Park Series in the Twin Cities, where Ms. Artymiw is based.
The quartet came to town a day early in order to spend the afternoon with Ms. Artymiw in the studios of American Public Radio, where they talked with Fred Child and recorded a movement of the Dohnanyi Piano Quintet No. 2 - yes, the second quintet, which is a devil of a piece, but wonderful and well-worth the work, and a pleasure to hear. And you can hear the interview and performance by following the link below. The music starts at 3:00.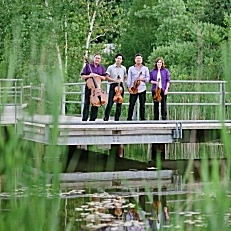 Dohnanyi Quintet No. 2
Voxare String Quartet
Download:
The Voxare String Quartet has a wonderful line-up of distinctive and fascinating programs, all of which explore new things in new ways, often in the context of old things being explored in new ways.
A favorite Voxare project of mine is "Voxare Meets Man With a Movie Camera." The quartet just performed this program for Ridotto, a terrific and innovative series in Long Island. Next season's slate will include a performance for Calgary Pro Musica.
The New York Times has written of it, "With rustic melodies made edgy through piquant harmonies, and in passages of turbulent mechanical chugging, the music neatly corresponded to Vertov's jumpy barrage of images. The members of the quartet, seated in darkness to one side of the stage, played with precision and passion."
"Man With a Movie Camera" is a 1929 silent documentary, the magnum opus of the seminal Soviet director Dziga Vertov. In it, he pioneered many new film techniques. And while he claimed in boldface that there was no story to this documentary, I think most would agree with me that there is a story, if not one that is an obvious narrative.
Voxare has created its own soundtrack for the film, which runs just over an hour, drawing on music of Stravinsky, Prokofiev, Shostakovich, and Mosolov.
And of course there is a trailer!:
Voxare Meets the Man with a Movie Camera -- Trailer
Peabody Trio
Download:
Most people do not choose to get into my line of work, or yours, or that of the artists we represent and present to be sure, to make big bucks. There are other compensations, and I will use this opportunity to share one of those as relates to the Peabody Trio.
When my son was just shy of age three, the Peabody had a performance for the Howland Chamber Music Circle, a lovely series presented in the Howland Cultural Center in Beacon, New York. The building is on the National Historic Register, and was first a library. There are still books, but now it is a performing space and gallery. I have had the pleasure to work regularly with this series since its inception, and I can think of no place I'd rather go to hear chamber music.
I really wanted to hear this performance, and it was a day when my wife was away. So, despite his young age, I thought I'd try this out on my son. I knew he'd love the train ride up the Hudson. He'd heard some bits of concerts before. I figured maybe we'd just catch a movement or two - and then repair to the nice bakery across the street. Even 10 minutes of the Peabody Trio at the Howland Center would be enough for me.
The program comprised two works, Beethoven's "Archduke" and Schubert's B-flat major. Two BIG pieces, to be sure, each in the 45 to 50 minute range. I cleared things with the presenter and of course the Trio in advance, and asked that the pair of seats closest to the door be set aside for us so an instant exit could be effected. I was confident my son would be fine for at least one movement, and I had that bakery bribe ready. Everyone involved understood - well, everyone but my son - exactly what was on the agenda, and as we were all friends, it seemed like a thing we could try. (Please understand that I am not suggesting this sort of thing be done other in a cavalier way!)
At the conclusion of the first movement of the Beethoven, I leaned over and said what is usually a pretty magical word, "Cookie?" The head shakes - the eyes continue to be riveted on the stage. Second movement. "Cookie?" Head shake again, this time a little annoyed. At the end of the piece: "Do you want to hear the other piece? There is a break now. Or do you want to get that cookie?" "I want to hear the other piece. Can I meet the musicians?" We repaired to the green room.
I was a little worried by the end of the Schubert. Not that my son was anything but completely engrossed. My concern was that so many people in the audience had noticed what was unfolding here, and I didn't want THEM to get distracted. Or the Peabody Trio.
But all went well.
Violin lessons started a few weeks later.
Of course I'm bragging a bit here about my son. But there is something that I think is much more important at play. First of all - and sure, some bragging of a different sort - I think it has to be recognized that whatever my son may have brought to the table that afternoon, he was served some rather remarkable music making. And he was served it in a wonderful setting surrounded by wonderful people. Concerts are not just about music.
My son is nine now. He continues with violin. His greatest interest is filmmaking. That includes composing the music. (I will note that many of his most pressing questions have to do with licensing issues.)
It matters not at all whether he pursues a life in the arts. But I am convinced that his experience in Beacon a half-dozen years ago is very much at the heart of who he is now.
This is why we do what we do.
I think it is time to listen to some "Archduke" played by the Peabody, live in concert:
Beethoven: Trio in B-flat major, Op. 97
(III. Andante cantabile)
Atlantic Brass Quintet
Download:
The Atlantic Brass Quintet's latest recording, "Crossover," was released earlier this year.
On the back cover of the disc, which is from Summit Records, there is this quote from The Buffalo News: "Pushing the envelope of what a brass quintet is capable ... an irresistibly infectious spirit."
This quote does a wonderful job of distilling the Atlantic. The recording explores two paths. One is a group of pieces by jazz composers or works that were influenced by jazz style (thus Shostakovich's "Jazz Suite No. 1.") The other path is a continuing love affair of the Atlantic Brass's with Balkan music.
I invite you to sample the music here:
Shostakovich: Walzer (Jazz Suite No. 1)
Bubamara
New Century Saxophone Quartet
Download:
NEW CENTURY 2015-2016 REPERTORY
For the past few years, the New Century Saxophone Quartet has enjoyed exploring various forms of folk music. This has included both transcriptions and commissioned works. The fruits of this labor have been heard in concerts throughout the US, and now can be heard on their latest recording, "Weekend Traveler," from Alanna Records. Here's a sample - music by the poet Robert Burns:
Robert Burns (arr. Paul Harvey)
My Wife's a Winsome Wee Thing
William Kanengiser, guitar
Download:
KANENGISER 2015-2016 REPERTORY
Like the Atlantic and the New Century, guitarist William Kanengiser has been engrossed in music from a variety of cultures. His 2015-2016 concert program features a World Tour that visits Africa, the Middle East, Eastern Europe, China, and the Caribbean.
Here is what he'll bring you from China:
Gerald Garcia: Spring Snow